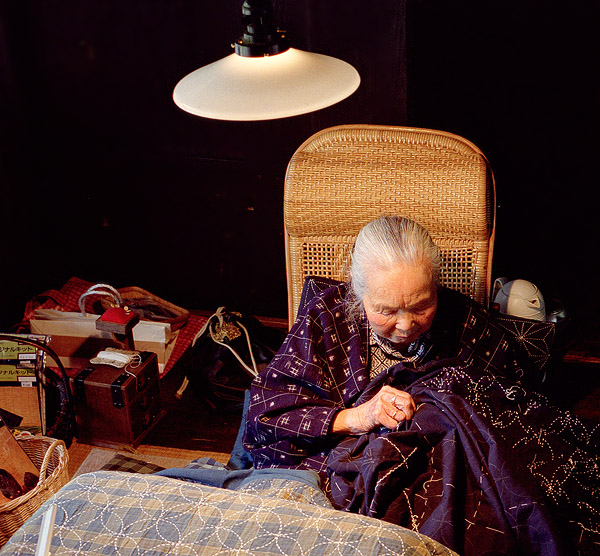 If I remember correctly, this embroiderer at Hida-no-sato, Takyama is 94 years old, and, as you can see, stilll working. She must have done this for most of her life, sitting on the floor and bending forward: as I saw her walking later that day, her back was bent forward at almost a 90 degree angle, seemingly locked into that position. Selected for the Hall of Fame on 2003/May/01
| | |
| --- | --- |
| Camera: | Contax G2 |
| Lens: | Carl Zeiss Biogon 28mm f/2.8 |
| Film: | Superia 800 |
| Exposure: | 1/30s @ f/5.6 |
| Flash: | |
| Support: | |
| Filter: | |
| Adjustment: | minor color corrections, horizontal crop |
| Posted: | 25-Nov-2002 |
Rating: 8.71 (28 ratings)
---
Comments
Superlative . . .
This image is so exceptionally rich with in detail--your style prevails-- and detail. Now for a few questions: *(a) is there more detail in the background? *(b)to the left of her chair's backrest there is a small dimple of light. Were you not a little encouraged to blot it out. I particuarly enjoy the details in her weathered face and hand,Wilfred!
Jerome Belthrop
25-Nov-2002 at 04:07
---
Thanks, Jerome
(a) No, the blackground is either completely underexposed or it was black already - I can't remember. It did not bother me because details would have been distracting. (b) I have been considering that - on the web the dimple is more conspicious so I probably should have removed it. But I guess you won't increase your rating if I'd do it :-)
Wilfred van der Vegte
25-Nov-2002 at 07:52
---
STUNNING!!
Great photo!!
Skip Nall 25-Nov-2002 at 09:00
---
Askance Portraiture
I like this as a fine example of how portraiture needn't look straight into the face. The details of her ordered environment tell a lot, both about the place and her place in it.
The large dark area bothers me a bit. I know the lamp is a tempting graphic addition, as is the faintly-seen vertical beam, but they add little to the impact of the portrait. Consider cropping it right below the top of the chair -- you still get 99% of the "active" image (easy to play with right here, using the browser's scroll bars....)
Kevin Bjorke
25-Nov-2002 at 10:07
---
yes
I have to concur that this is a beautiful shot. The light and the perfect flesh tone makes it. Superia 800 gives consistently beautiful results when the composition is right, which it is. Was this really shot with a 28? It looks to me like a planar.
Steven De Castro
25-Nov-2002 at 13:07
---
Just Beautiful
Can hardly believe it was 800 speed negative film that got this kind of richness! I don't know that anything short of a well scanned slide could have produced such detail. Great light and color.
Robert Mirani
25-Nov-2002 at 19:29
---
-
This negative had been waiting to be scanned for almost 1/2 year and from the print I didn't expect this result, especially because the highlights in the hair were clipped. The scan came out very well though, perhaps thanks to VueScan. I also have a few shots made with the Planar, without the lamp, maybe I will post them some time later to show Kevin a lampless version and to show Steven that this is the Biogon indeed (maybe the square crop misguided you?)
Wilfred van der Vegte
25-Nov-2002 at 23:34
---
Oops
... and I forgot to say "thank you" for the nice comments!
Wilfred van der Vegte
25-Nov-2002 at 23:43
---
Wouldn't change a bit of it. Wonderful
Steve McBride
26-Nov-2002 at 03:36
---
--
Wilfred, you are a master with Superia 800 -- I've previously commented on your work with this film. That said, it's a great image, and I like the placement of the light, and everthing else, for that matter. I bet it makes a stunning print. --tom
Thomas Munch
26-Nov-2002 at 13:59
---
Just a
terific photograph.
George Shadoan
26-Nov-2002 at 18:29
---
94
Beautifully composed and exposure is righ on.
Gregg Humphrey
30-Jan-2003 at 11:44
---
Wlifred
congratulation Wilfred. Then you made it, and well done it is. I will speak to you much more respectfully from now on :-).
Knut Skjærven 01-May-2003 at 09:46
---
Excellent
Very deserving of Hall of Fame honors. The composition and especially the lighting are really first rate. Presumably, there is a source of natural light in addition to the ceiling lamp. The background objects add nicely to the overall interest of the image. Finally, this shot confirms my opinion that the 28/2.8 is the finest of all the G lenses.
Robert Goldstein 01-May-2003 at 20:32
---
-
Thanks everyone for your nice ratings and nice words.
Robert, your comment struck me - you must be very clever. Indeed there was a source of natural light: a paneless windowto the left of the scene. How did you know?
Wilfred van der Vegte
02-May-2003 at 12:08
---
THe only place for this image is HOF
stunning - absolutely stunning. I have spent a while looking at the negative space top left side but it does add to the image. I'll be happy to produce one image like this each year!
Carl Radford
17-Jun-2003 at 07:05
---
a "5" ??!
Mr. Couman I can't understand your rating of a "5" for this superb image. Can you at least post an explanation of why you feel one of the most striking images on this site should receive a very low "average" rating? Also, please post some of your own images.
Gregg Humphrey
07-Sep-2004 at 10:46
---
Gregg
I recently noticed Mr Couman's rating and sent him a polite e-mail, asking for an explanation. Perhaps I could learn from his insights, I expected, but -unfortunately- he never replied ...
Wilfred van der Vegte
07-Sep-2004 at 10:51
---
why the "5"
dear administrator and fellow site memebers: what is a "5" rating doing on this image?
Gregg Humphrey
22-Jul-2005 at 14:08
---