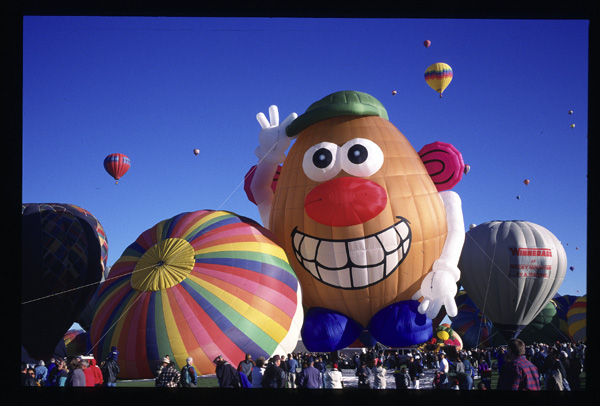 I'll be positng about ten photos of the ABQ October, 2002 ballon festival over time. The first three will include people on the ground to give some idea of the scale of the balloons.
| | |
| --- | --- |
| Camera: | G2 |
| Lens: | 35/2 |
| Film: | Astia |
| Exposure: | Auto/f8 |
| Flash: | |
| Support: | |
| Filter: | |
| Adjustment: | no crop, min global. |
| Posted: | 27-Oct-2002 |
Rating: 6.00 (1 rating)
---
Comments
-
George, I think the colors are nice, but IMO the composition is somewhat disturbed by the fact that most of the people are cut off at hip level. I think the image would be more powerful if the feet were included. Alternatively, you could think of cropping part of the blottom, so that the two areas of grass have just disappeared. The people will become torsos and I think the composition would be more balanced.
Wilfred van der Vegte
28-Oct-2002 at 23:38
---
fun
what a fun photo! i don't mind that the people are not "whole"...i think the photo is charming: the big, smiley guy with the varied sizes of bubbles that are the other balloons surrounding his head. nice blue!
Jean Lee
29-Oct-2002 at 16:58
---
Ballons
George, although I generally hate hotair ballon photos, I like this one. The humor makes it. I live just south of Albuquerque and have had my fill of ballons and ballon images. The suckers crash in my horse pastures,then fire up and spook the hell out of my horses. They have run cattle through my fences and don't even offer repairs. Keep up your good photography work. I'll be watching. *I added somemore comments to your last entry in my "Girl On Steps" image.
Don
28-May-2003 at 10:19
---