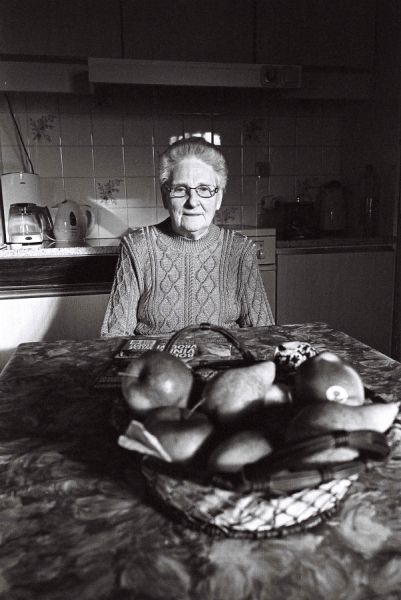 my friends mother
| | |
| --- | --- |
| Camera: | Contax G2 |
| Lens: | Carl Zeiss Biogon 28mm f/2.8 |
| Film: | kodak trix 1600 |
| Exposure: | 1/60 f8.0 |
| Flash: | |
| Support: | |
| Filter: | yellow |
| Adjustment: | contrast |
| Posted: | 12-Feb-2010 |
Rating: 8.13 (8 ratings)
---
Comments
Very nice light, did you use one flash technique of yours?
Fred
12-Feb-2010 at 19:39
---
mother
no flash, i've used the natural light and reflections in her kitchen, if she was only one meter further away then she stood in the shadow, one step to the left or right she sat in the shadow but now i have a flash and the 90mil ! i've become a contaxg enthusiast, i will give it a try next week.
johnny
12-Feb-2010 at 23:02
---
well seen ! a nimbus-like light above her head: a modern "Mother".
k.hendrik 14-Feb-2010 at 10:28
---