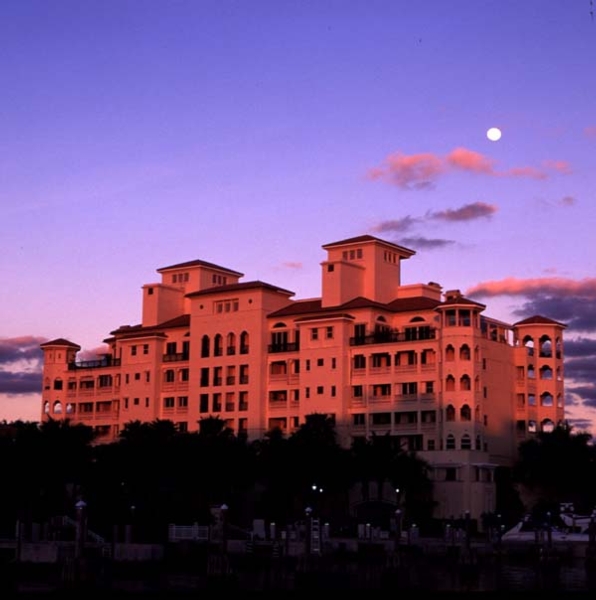 Grab shot at dusk. G2/45mm, exposure unrecorded.
| | |
| --- | --- |
| Camera: | |
| Lens: | |
| Film: | |
| Exposure: | |
| Flash: | |
| Support: | |
| Filter: | |
| Adjustment: | |
| Posted: | 21-Feb-2001 |
Rating: 6.88 (8 ratings)
---
Comments
Postcard stuff!
Lovely shot - marvellous lighting, and well done for keeping the camera still - must have had low light. Or did you use a tripod? You should sell this back to Miami.
Vish Vishvanath
04-May-2001 at 05:38
---
Very Nice
George, Vish is right. You should be turning this one into postcards for sure. I think this image would "sell like hotcakes" especially in Florida....
Nick Recob 01-Aug-2001 at 03:16
---
Ethereal crop
I like this a lot and am glad (as always) that others have drawn my attention to it. On my laptop, the picture builds in horizonal sections so the bottom took me by surprise. This (rather than any ability) gave me the idea for a crop. From the bottom crop up until the first storey and the lights are hidden...it look like the building is floating on clouds like something from the Arabian Nights.
Charez Golvala 01-Aug-2001 at 03:20
---
crop?
Charez's suggestion addrresses a problem that has troubled me about this photo. I'd like some other comment on his suggestion. What about erasing the lights without a crop? As it is there is no Photoshop manipulation, indeed no sharpening as I did not know how.
George Shadoan
02-Aug-2001 at 15:13
---