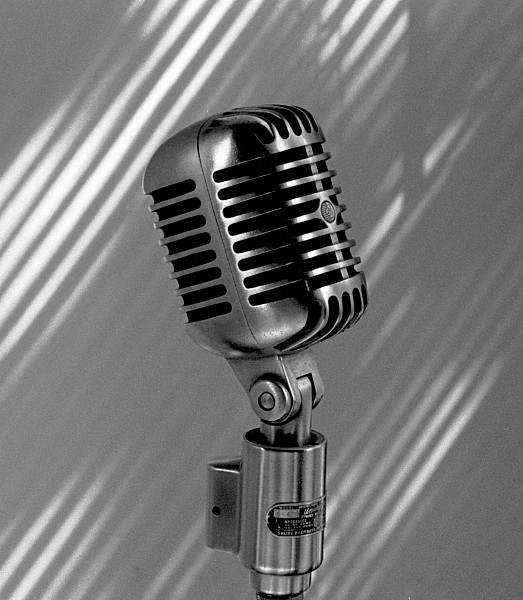 Another hobby of mine is microphones and recording. Saw this light on the wall through a window blind, and thought of putting the old microphone in there. Reminds me of some older styles.
| | |
| --- | --- |
| Camera: | G1 |
| Lens: | 90mm |
| Film: | TriX |
| Exposure: | Not recorded |
| Flash: | |
| Support: | |
| Filter: | |
| Adjustment: | |
| Posted: | 15-Oct-2001 |
Rating: 8.07 (15 ratings)
---
Comments
Really good, once again!
Karl, once you show great eye along with perfect control over your camera. Nice diagonal lighting!
Matthias Rueger
15-Oct-2001 at 04:30
---
radio daze
...is this a "steel-life" or a "still-life." Forgive my poor attempt at irony--I think the choice of negative film was just right. Jerome
Jerome Belthrop
15-Oct-2001 at 06:07
---
Wow!
This is so cool! I love it.
Richard Sintchak
15-Oct-2001 at 09:16
---
Just beautiful
... just beautiful. Reminds me of the forties and Frank Sinatra doing Dorsey. Yes steel life.
Knut Skjærven 15-Oct-2001 at 11:07
---
Really
... is this done with a G1?
Knut Skjærven 15-Oct-2001 at 11:08
---
Once again, Thanks!
Wow, thanks to everyone for the kind words. I was very pleased myself to get these negatives, and of course I've never doubted the Zeiss optics. It is amazing what one can get with 35mm, good lighting, and a good tripod (just recently got a Manfrotto).
Karl Winkler
15-Oct-2001 at 13:55
---
I can almost feel the metal
and the strips of sunlight on the wall really added to the mood. Not my type of shooting but you presented it in such a way that its easy to enjoy. Well done. ed
Ed Ng
15-May-2002 at 07:17
---
that's what I'm talking
about - more than just rich tones, real, palable, metal tones. And the soft diagonal light and shadows on the wall just sets it off. Fantastic
Gregg Humphrey
25-Mar-2003 at 19:02
---
I would like to license this shot
Karl, I'm a documentary filmmaker, If you are interested in licensing this shot call me at (818) 752-2500. I'm working on a doc about music. Do you have more microphone shots?
Peter Spirer
14-Apr-2004 at 22:47
---