Judy and Barbara - Don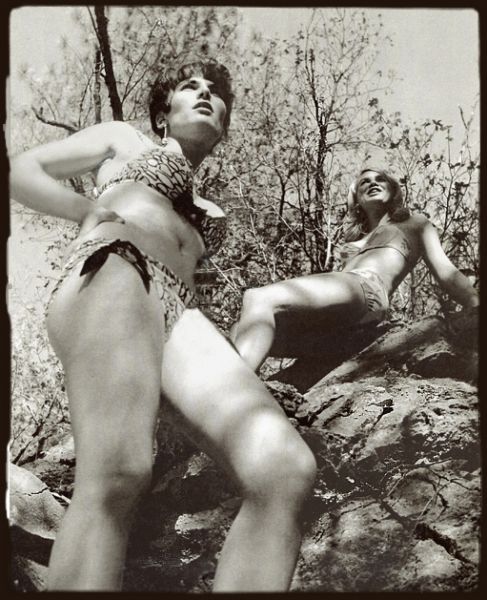 (Click on Image to veiw a sharper version) "Judy and Barbara" Take care with your comments because Judy (Brunette in front) is my wife. I finally got a 28mm lens and decided there is no time like the present to try it out.
| | |
| --- | --- |
| Camera: | Contax G2 |
| Lens: | Carl Zeiss Biogon 28mm f/2.8 |
| Film: | Tri-X,pushed +1 |
| Exposure: | f.16,1/250 |
| Flash: | |
| Support: | |
| Filter: | light red |
| Adjustment: | 1.5+ compensation |
| Posted: | 30-May-2003 |
Rating: 7.69 (13 ratings)
---
Comments
-
Impossibly cool shot given the challenging light conditions and the background, which could have sprouted all sorts of things from your beautiful subjects' heads. Great job managing depth of field as well. Given what the 28mm can do (negatively) to subjects, it's no small tribute to your skill that your wife looks very beautiful and hot in this image -- hope I didn't get myself in trouble for saying that!
Robert Mirani
30-May-2003 at 19:20
---
Flattery . . .
Elongated figures, Don, compliment almost, every figure;You are a clever photographer. With consideration for the lack of model affectation this is a fine example of classic,if retro-pin-up photography.
Jerome Belthrop
31-May-2003 at 03:41
---
Retro Or Aujourd'hui/Maintenant
Recent fashion photog shows a move or move back in this direction. Heroin Chic is also returning to some extent. This shot was an attempt to test the 28 in this situation. I'm pleased with the distortion that I couldn't quite achieve with the 45. I was also pleased with the rendering of the cast shadows from the trees. It has been suggested by at least 3 G-members that I dis the flatbed and purchase the Minolta Scan Dual II,but I have heard that it doesn't handle Tri-X (one of my primary films) very well-Any truth to this?
Don
31-May-2003 at 09:55
---
fine composition
and charm of tri-x of course :)
Vadim Mikhalets
31-May-2003 at 10:19
---
-
I half expect to see a Tyrannosaurus peeking over the trees in the background. Retro in a sort of One Million Years BC kind o' way. Very creative and fun. Only a seven 'cause of the small image and mediocre scan. I'll bet you'll want to re-submit some of you stuff when you get a film scanner.
Kevin Conville
31-May-2003 at 22:31
---
The Lens
Hyperfocal distance on the lens.
Don
01-Jun-2003 at 10:47
---
we like
gotta love this one don..l know a few designers who would run with this one in any fashion editorial
brett goldsmith
29-Dec-2003 at 05:34
---